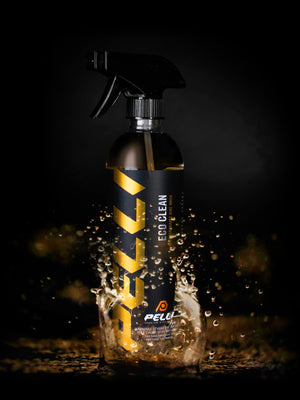 PELLI EcoCLEAN Biodegradable Bike Wash
Sale price Price $15.99 Regular price Unit price / per
Pelli's EcoCLEAN is a revolutionary DRE (direct release to the environment) cleaner and degreaser designed specifically to remove stubborn stuck on mud, dirt, and road grime from metal alloy and carbon fiber road and mountain bike frames. 
Utilizing naturally derived environmentally friendly surfactants and degreasing agents, this high-foaming and high-wetting detergent formula sticks to organic compounds and road grime, loosening them from your delicate finish and allowing them to be easily hosed off from areas inaccessible by brushes or towels.
Containing EPA approved natural ingredients, EcoCLEAN is safe on all bike finishes and can be used full-strength or diluted depending on the degree of contamination.  Unlike most automotive degreasers with harsh chemicals and lingering chemical odors, EcoCLEAN is safe for the environment and has a pleasant citrus scent and non-toxic formula with the power to restore your frame to its original showroom shine. 
Want to know more?  Dive deep into the technology and usage behind PELLI EcoCLEAN here.
FEATURES
pH Neutral DRE formula is safe on all surfaces and offers powerful cleaning performance.

Safe on painted and raw carbon, alloy, and anodized surfaces.
High-foaming spray formula attaches to stuck on contaminants and in hard-to-reach spaces, dissolving them for easy spray off.

Non-Toxic formula with orange citrus scent is safe for application on paint, carbon fiber, alloy, plastic, rubber, and even on protective tape.