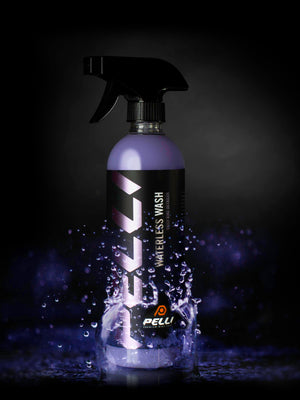 PELLI WATERLESS WASH Daily Bike Detailer
Sale price Price $16.99 Regular price Unit price / per
PELLI WATERLESS WASH is a technologically advanced waterless cleaner and detailer  engineered specifically to clean and maintain your bike between regular deep cleanings.  Safe on carbon fiber and metal-alloy frames and components, our advanced formula lubricates as it cleans, preventing streaking or scratching, and leaves behind a rich streak-free gloss on painted and clear-coated frames.  
Our all-in-one solution requires no hose, water supply, or messy bucket and sponge, and is one of the most flexible and easy to use products we offer.  Pack with your bike and simply spray on after your ride at the trailhead, parking lot, or in your garage and wipe clean with a fresh microfiber towel.  Used as a regular part of your post-ride maintenance, WATERLESS WASH will lengthen the amount of time required between deep cleanings - allowing you to CLEAN LESS, RIDE MORE.  
FEATURES
Unique formula cleans as it shines - safely removing light contamination from your bike without scratching or streaking.
Easy application with spray-on, wipe-off formula.
Enhances appearance with deep mirror shine on painted frames and smooth, streak-free perfection on matte carbon fiber.
Extends the life of your PELLI CERAMIC PROTECT coating.  
Non-Toxic formula with pleasant scent is safe for application on paint, carbon fiber, alloy, plastic, rubber, and even on protective tape.